Chart of the Day: Monday 10th June
6월 11, 2019
USDZAR – 4Hr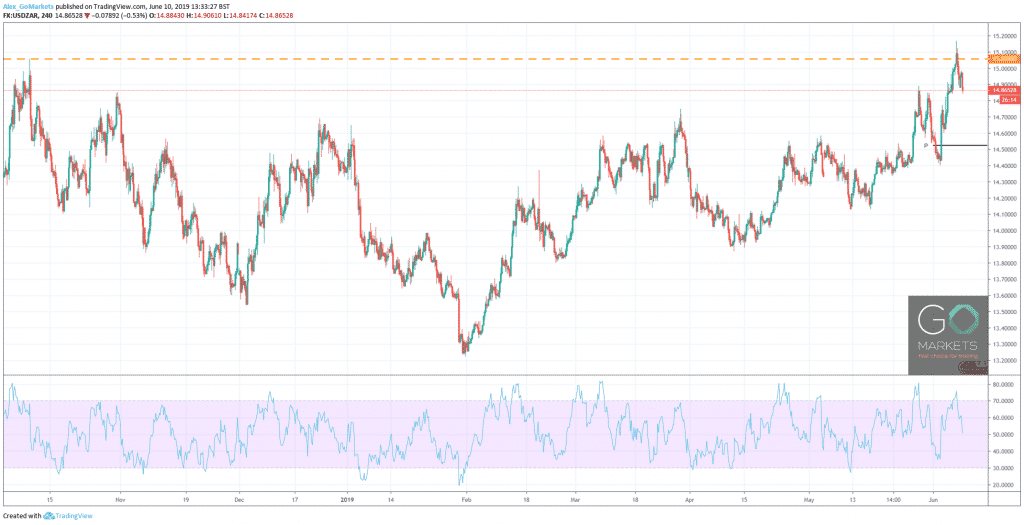 The 2nd & 3rd quarter of 2018 saw some volatile trading for the South African Rand, with aggressive rallies and sell-offs quickly following that we're just as aggressive.
While 2019's trading hasn't been anywhere near as aggressive we are seeing some moves in the USDZAR currency cross. With the pair rallying close to the 2018 highs.
Friday's trading session last week saw the Emerging Market's cross rally to resistance at 15.059 and trade away on the Non-Farm payrolls figure coming out softer. However, Monday's open has been a different story with the Rand starting on the front foot, causing the price to retreat further from the resistance level. This on the back of the United States shelving plans to impose tariffs on Mexico. The news surrounding tariffs is having a significant effect on the Peso, as to be expected, but is also spilling over into the other emerging markets, as we can see in the Rand.
Consequently, we are also seeing the South African government bonds strengthening and the Johannesburg Stock Exchange trading higher by 0.4% in early trading.
Despite the strengthening Rand it remains to be seen whether this news will make a significant difference, or whether this will be a blip and we will soon see previous highs traded through in the USDZAR cross.
 @Alex_GoMarkets
Sources: Go Markets, Meta Trader 5, TradingView, Bloomberg
Disclaimer: Articles and videos from GO Markets analysts are based on their independent analysis. Views expressed are of their own and of a 'general' nature. Advice (if any) are not based on the reader's personal objectives, financial situation or needs.  Readers should, therefore, consider how appropriate the advice (if any) is to their objectives, financial situation and needs, before acting on the advice.